Undergraduate Careers and Internships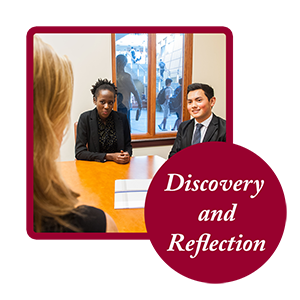 Discovery and Reflection
Career coaches are available through the Office of Professional Development to assist students in the process of discovery through reflection. Coaches use on-line assessments, individual coaching techniques and goal setting to help students gather information about their skills, strengths, values and motivations, thus empowering students to create their own unique individual career goals and strategies.
Discovery and Reflection Programs
Career Workshop Series 
Facul-Teas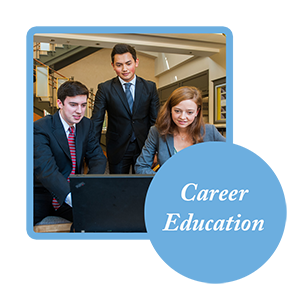 Career Education
In addition to reflecting on one's own strengths, skills, values and motivations, students must also learn about the wide variety of careers available upon graduation. The Office of Professional Development offers a wide variety of programming to help students explore industries, job functions and career paths to Georgetown students.
Career Education Programs
Industry Panel Series

Student Group Programming
Career Treks
Skill Development Workshops
Winter Break Bootcamp
Mentorship
"It's not what you know, it's who you know," as the saying goes. The Hoya network is one of the strongest in the nation, if not the world, and the Office of Professional Development works with alumni, graduate students and upperclassmen to provide networking and mentorship opportunities for undergraduates throughout the school year.
McDonough Mentorship Programs
Alumni in Residence
Alumni Mentor Program
Informational Interviews
MBA Networking Events
Senior Coaches