McDonough School of Business Logos, Style Guides, and Templates
Official Logos
Merchandise using Georgetown McDonough logos must be pre-approved by the Office of Marketing and Communications and may not be used for personal profit. For approval or other logos, including vector files, please contact the senior director of content strategy.
RGB logos:
---
**Transparent Vertical Logo 1200 x 1200 px .png
**Transparent Horizontal Logo 1280 width
Style Guides and Templates
Zoom Backgrounds
Students, faculty, staff, and alumni may use the following Zoom background images:
PowerPoint and Google Slide Templates (updated 2019)
Students, faculty, and staff may download the McDonough School of Business presentation template:
Editorial Style Guide
Georgetown's McDonough School of Business adheres to an editorial style for all digital and print communications. View the editorial style guide.
Graphic Style Guide
Recommended Typography
Book Antiqua and Arial
Branding Colors
The university has two official colors, Georgetown Blue and Gray.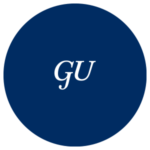 Georgetown Blue
Pantone 282
C:100 M:68 Y:0 K:54
R:4 G:30 B:66
Hex: #041E42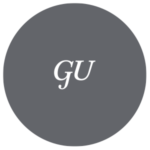 Georgetown Gray
Cool Gray 10
C:62 M:53 Y:47 K:19
R:99 G:102 B:106
Hex: #63666A
---
For additional Georgetown University logos, guidelines, and visual identity resources, please visit visualidentity.georgetown.edu, or contact the McDonough School of Business senior director of content strategy.